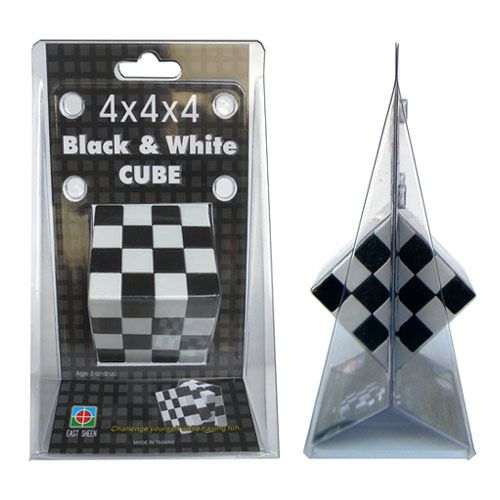 EBW4
Product Information
The concept of our black and white cube is based on chess board, which presents a completely different visual effect from the original ones. Judging from the simplicity of its colors, it might look easy to solve, but when you actually start trying to solve it, you will find it just as challenging as the original cubes, maybe even trickier, so don't judge the book by its cover!
The 4x4x4 cube that Eastsheen delicately designed can let you turn the cube with ease, you can also feel how smooth it is. Furthermore, it is not merely a challenging 4x4x4 cube that you see, it is also a "DIY" cube. With 6 screws, 8 different parts and 123 small components in total, you don't have to worry about not being able to solve it because you can disassemble it and put it back together all by yourself!
This is Eastsheen's type E packaging. The cube is enclosed in a PVC triangle blister clamshell with a packing card in between. Usually this item is used for presenting the items on display hooks in shops and stores.
Specification
Size: 12 cm x 20 cm x 9 cm (170 g)
Cube size: 6 cm x 6 cm x 6 cm (110.5 g)
Carton size: 51 cm x 40 cm x 46 cm
60 pcs / CTN (10 pcs / 1 inner box)
N.W. 10.2 kgs G.W. 12.9 kgs
Safety Certification
This product is patented in many countries and has passed ASTM (U.S.A) and EN71 (Europe).